Case Study: Mohammed Bin Rashid City
21 Dec 2016
Mohammed Bin Rashid Al Maktoum City - District One is one of the most high-profile building projects in Dubai, bringing together an ambitious variety of attractions and residences, completed by beautiful lagoons, beaches, and parks.
This new project aims to entertain residents and tourists with fascinating attractions such as The Mall of the World, a ski slope and a 4-acre pool, each being the biggest of their kind worldwide.
The first part of the project, District One, is composed of circa 1500 villas, 280 of which were awarded to AluK Middle East, thanks to the customized technical solution specifically developed for this project. In addition to AluK's customized SC95TT slider system, the residences will also incorporate AluK's 62TTE window, 63TT door, and SL50 curtain wall systems.
The project includes 3 architectural designs for the villas:
Mediterranean style inspired by Italian, Greek and Spanish homes, characterized by arched openings, pitched terracotta roofs, stucco walls, and courtyard-based layouts which define this strong design.
Modern Arabic Villas with design principles steeped in cultural traits, yet with modern aesthetics. At the heart of each villa is an exploration of traditional 'mafrooka' which comes at the intersection of the home in the form of the central Majlis or courtyard.
Contemporary Villas display minimalist design at its finest, featuring a series of simple connections and open spaces, which exude the minimalist nature desired, whilst also providing a clear and direct hierarchy of space and function.
At this time, the construction of the villas is evolving quite rapidly with 90% of the foundations completed and vertical structural work progressing well. Superstructure works, such as casting of the first-floor slabs, are currently being completed.

Mediterranean 4 bedroom villa

Contemporary 4 bedroom villa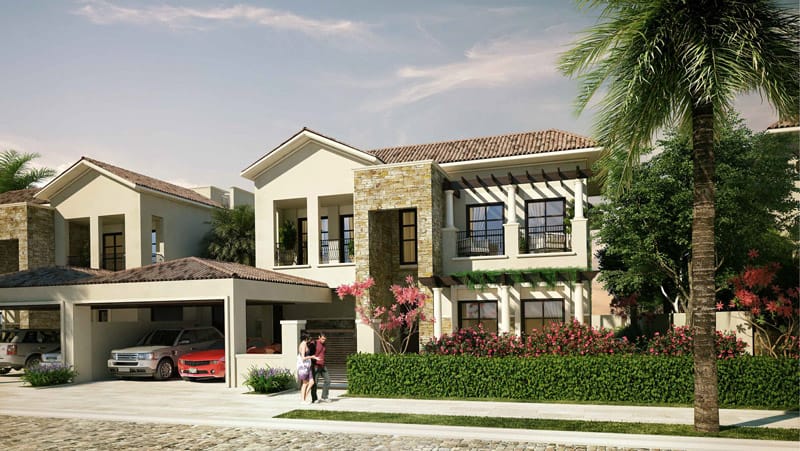 Modern Arabic 4 bedroom villa
Location: Dubai, UAE
Date of handover: 2017
Description: Residential
Client: Meydan Sobha
Consultant: AE7
Contractor: MS Construction
Fabricator: Zebian Industries
400 tons of aluminium extrusions
AluK systems used: